Hair Donations
Maggie's Wigs 4 Kids of Michigan helps children who struggle to deal with social acceptance caused by changes in their physical appearance. Thank you for considering donating your hair to our program as we provide our services at no charge to the children and their families.
We gratefully accept hair donations from around the world! The majority of all hair donated comes from children who wish to help other children. Please see the step-by-step guide below to learn about donating your hair.
Download Hair Donation Form View Salon Supporters In Your Area
(*If you're making a monetary gift along with your hair donation, you can note this on the hair donation form. You do not need to fill out a separate monetary donation sheet.)
---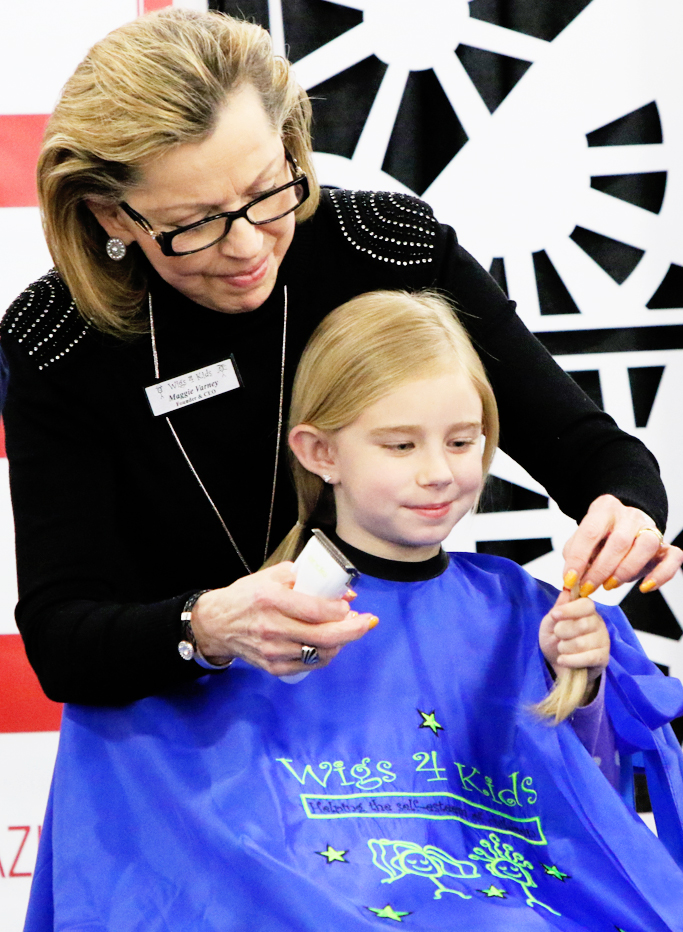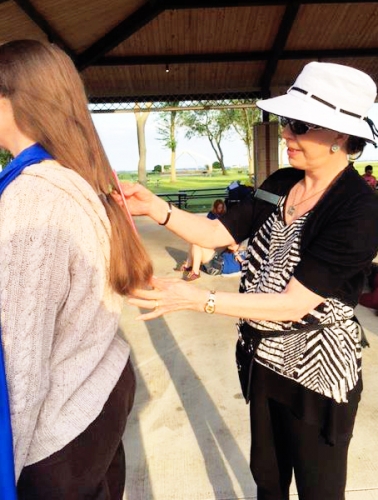 How to Donate Hair:
We request 10" minimum hair length although we will take as short as 7 inches to make a boy's wig or a short wig for a girl (from top of ponytail to end).
Hair needs to be clean, and thoroughly dry. Please bundle hair in a ponytail or braid before having it cut. After securing the hair, have it cut 1 inch ABOVE the rubber band to keep the strands bundled together - this is inclusive of the 10 inches. Once it has been cut please place in a plastic bag such as a Ziploc.
Layered hair is acceptable and may be divided into multiple ponytails and then cut.
Hair may not be colored or chemically treated. Hair should not be more than 10% gray.
You may pull curly hair straight to measure the minimum 10".
We accept hair from all ages and all countries.
Hair that was cut more than 2 years ago or swept off the floor is not usable.
We accept new human or synthetic wigs and extensions.
PLEASE NOTE: Anyone may cut your hair as long as the above guidelines are followed.
Go Green Salon, located inside Maggie's Wigs 4 Kids of Michigan, offers a consultation, haircut & style for a fee to those wishing to donate their hair. 50% of the proceeds from the fee goes back to our program. For more information, call 586-772-6656.
Please complete a hair donation form to send in a padded envelope with your hair to
Maggie's Wigs 4 Kids of Michigan, located at: 30126 Harper Avenue, St. Clair Shores, MI 48082. We always appreciate the opportunity to acknowledge our hair donors. The form can be included at the same time you send the hair.

---
Tips When Preparing Your Hair for Donation
Condition your hair after each shampoo to keep hair healthy.
If working with styling tools, you can use a leave-in conditioner to help boost protection from heat damage. Also shop around for high quality dryers and styling tools.
Regular brushing improves hair health! Use a Wet Brush or comb on wet hair to gently detangle it after showering. Towel dry your hair before using a blow dryer to decrease thermal damage.
---
Hair Donation FAQ's
Will my ponytail make a wig?
It takes approximately 10-12 ponytails to create a wig. Ponytails are blended based on color, texture and length before being sewn into the wig cap.
Can I be certain that my hair will be used to make a wig?
The manufacturers make the selection based on several production criteria.
Can I send hair from overseas?
Yes! You can follow the guidelines above to cut and package the hair and then mail it through your local postal service.
When can I expect to receive my thank you letter?
Please allow 30 days for processing. We are grateful for all of our hair donors. When you donate your hair, you are sharing a precious gift with a child in need!
Will I know which child receives my hair and can I contact them?
Due to HIPAA privacy laws, there is no communication between the children we serve and our hair donors to protect both their privacy and yours. Since it takes about 10 to 12 ponytails to make a wig and hair is blended together based off of length, color, and texture, we don't know whose ponytails are in a specific wig, yet we do know it will help a local child in need! Visit our webpage to see photos of some of our children before and after they receive their wigs along with their heartfelt stories: https://www.wigs4kids.org/kids-corner/our-kids.html
How does your hair become their hair?
Step One: A donor with clean dry hair secures it into a ponytail or braid, then cuts it. A minimum of 10 inches of hair is needed.
Step Two: The hair undergoes chemical processing at a science lab. This special treatment prepares and sanitizes hair properly.
Step Three: A hackle is used to carefully blend and direct the hair from root to end. Natural hair is a blend of many colors.
Step Four: One ponytail makes up only about 1/10 of the finished hairpiece. A blend of six to eight ounces of hair in varying shades of color ensures the natural look and feel of the child's wig.
Step Five: A plaster mold is made of the child's head.
Step Six: Once the mold is set, a liquid form is poured into the mold and allowed to dry. When the form and the mold are separated from one another, a cap that fits the size of the resulting cast is made. This cap serves as the foundation of the hairpiece. Because the child who wears the hairpiece will likely swim, shower, and sleep with it on. The design of this foundation is carefully considered and the materials from which it is made are carefully selected.
Step Seven: Each strand of hair is hand-tied. The hair is now designed for the child's request.
---
How to Host a Cut-a-thon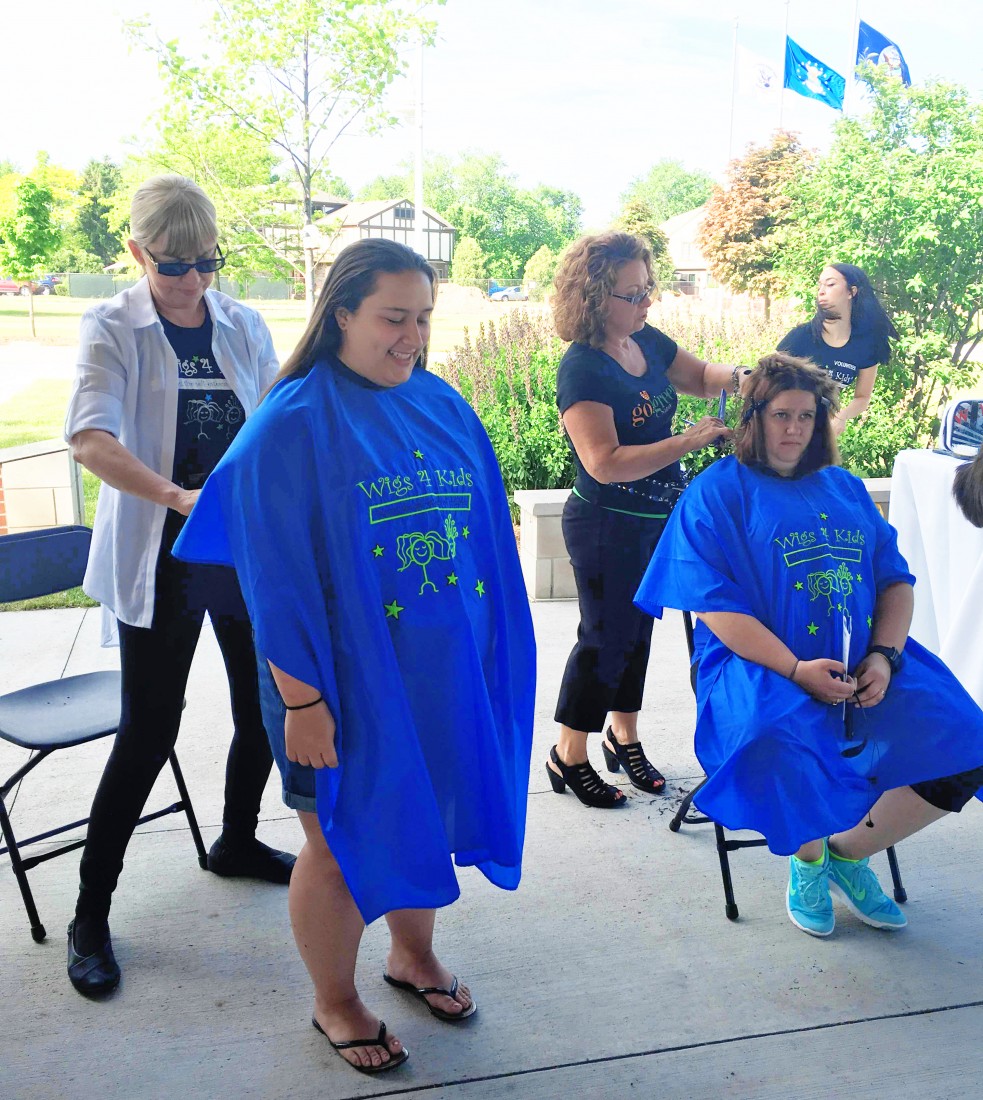 Cut-a-thons offer the opportunity to collect hair donations from many individuals at the same time during an event. Interested in organizing a cut-a-thon to benefit the kids? Click the button below!
Download Cut-a-thon Instructions
---
T-Shirts
Help spread the word about donating hair! Now you've made the decision to donate your own hair, why not promote your experience? You can further your support by purchasing a fun Maggie's Wigs 4 Kids of Michigan t-shirt when you send in your hair donation. Click the pictures below to view t-shirts up close. T-shirts can be ordered on our hair donation form.
*PLEASE NOTE: Children's t-shirt sizes run small – order one size up.*
---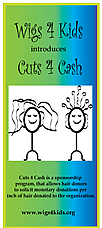 How else can I help?
You can sponsor the making of a wig by participating in the Cuts 4 Cash program. Collect monetary pledges from your friends & family for every inch of hair you donate.
You can also make a donation for a Cuts 4 Cash fundraiser online securely through Paypal. Simply click the button below. *PLEASE NOTE - you will be making a monetary donation through this link.*
---